Aloe Vera is well known for its soothing, healing properties and while there are lots of pharmaceutical treatments on the market, there are several of the Aloe products that I truly wouldn't be without.  The two that I most go back to again and again both come from the Forever Living range, although Aloe Vera in whatever form you can get your paws on is always going to be a great addition to your first aid kit.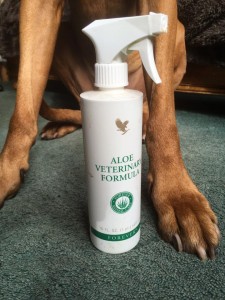 The Aloe Veterinary Formula (as modelled by Axl) is a smashing "go to" product.  Because it is a fluid, its great for spraying on sore patches within the hair without shaving them down, or to clean a wound, or to soothe itchy paws from allergies and nibbling.
During the summer when grass seeds can be a huge problem, particularly for dogs with longer coats, the Aloe Veterinary Formula can be sprayed on to paws and between the toes to help tease out those pesky seeds and to soothe any pollen irritation under the paw, between the toes or at the nail bed.
As my guys have a short coat, we don't struggle quite so much with this.  For us, our main use comes in the winter time after we've been out on muddy walks, walks through woodland where there is a suggestion of Alabama Rot risk, or walks on pavements that may have been salt treated because of ice.  When we return home, a quick wash of the feet, towel dry and a squirt of Aloe Vera spray to the paws and up the legs not only soothes any irritation but also helps reduce any fungal build up which I'm sure we all recognise as "Popcorn Paws" or "Frito Feet" when they emanate that savoury odour!
Another Aloe product I always have to hand (for the dogs and for me too – although I do have a separate one for me!!!) is the Forever Aloe Lips lip balm.  Yes, you can of course use it as a lip balm but because it is self contained in its own little tube, it's great for popping in to your first aid kit.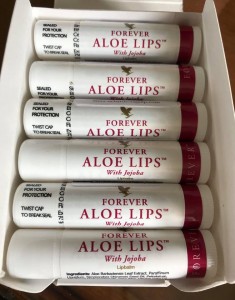 When skin dries, it dies.  This means that if you allow the skin around a graze or wound to dry out, or to scab over, it will take much longer to heal and will possibly leave a scar as a result.  If you can keep the skin hydrated and moist (not WET) the healing time speeds up and the skin is less itchy and tight.  Whenever a wound starts to heal and the skin tightens, this can be irritating for your dog and often is the main cause of them nibbling and licking the area.  This great little product can simply be twisted out, as you would a lip stick, and rubbed over the graze or sore patch to moisturise the area, keep it clean and help to soothe it all at the same time.
If you are interested in the Aloe Lips, we do stock those but if you are wanting to get your hands on the Aloe Veterinary Formula, please contact:
Laura Richardson on 07841 338125  or through her Facebook Page: Laura Richardson FB