Why is it, whenever your dog damages his or her paw, the weather always seems to be wet, snowy or muddy?  In England, we call this sod's law!  If your dog has a dressing on his paw, it is very important that we can keep a paw dressing dry and clean at all times.  If the weather is dry, this is not so much of a problem but if its not, well, you'll have the devil's own job getting them outside to toilet without them stepping in a puddle, a muddy bit or even just on damp ground.
You can, of course, purchase a medical boot specifically for such occasions.  There are various types such as this one by Buster.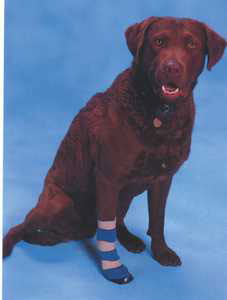 Buster Dog Socks have a waterproof sole used as a cover for paw bandages.  It is made of rib knitted cotton enabling the bandage to breathe and has been reinforced with a hard wearing and waterproof sole. The sock is pulled firmly upwards and fastened with two pieces of plaster tape which are not included. Measure from the back of the paw to the toes including the claws. (Sold in pairs).
Below is a version made by Healers, again with the non-slip sole, they are easy to slip on and off as they fasten with a Velcro top.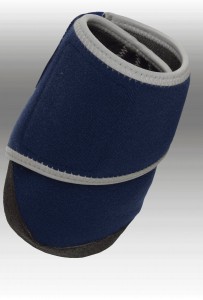 Mikki also do a version, available from VetUK at around £6.50.  This boot is for protection only and not for sustained use over long periods.  They are used for foot protection whilst out and about or for sole use to cover a foot dressing or wound protection.  They have a bonded Vinyl upper with a non slip PVC sole.  Sizing of the product allows for your dog to wear a dressing. Reduce size if not wearing a dressing.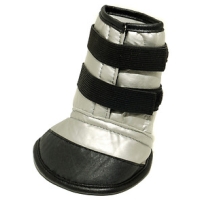 And the final type of protection you might consider is what I can only describe as like a stretchy latex balloon!  PAWZ Dog Boots, available from Petco.com, are made of natural rubber and are comfortable for your dog to wear. Unlike other dog boots these stretchy, waterproof dog boots have no padding so your dog can feel the ground beneath him giving him more confidence and ease of movement. The natural rubber is strong and stretchy making them easy to put on and once they are secured on your dog's paws they stay put. Perfect for protecting tender paws at the beach, river, on hot or cold sidewalks and in rain and snow. Reusable, disposable and waterproof makes these dog boots an
economical, convenient and versatile choice.  (Remember to order a big enough size to cover the paw AND the dressing, if this is what you intend to use them for).  These boots are available in 4 sizes and come in packs of 12.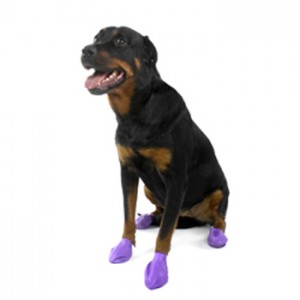 If you have a small breed dog and are not intending to walk on very rough ground, a condom makes a good waterproof cover or failing that, the finger of a pair of latex gloves or washing up gloves.
You could, of course, simply use a sturdy plastic bag (or if your vet is feeling kind, he may let you have some saline bags) and tape around the top of the leg to hold it in place although you will be going through quite a bit of tape through the course of a day – not to mention the adhesive causing sticky patches on the fur AND the possibility of your dog getting an unintentional leg wax each time you try to remove it!
A good way around this problem is simply to fashion yourself a kind of toggle.  A rubber band with a piece of plastic or a bar of some kind attached to it makes an ideal fastening mechanism, as I found when Axl nearly amputated his stopper pad and need to wear a bandage and dressings for a full 8 weeks during snowy weather.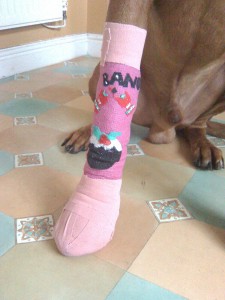 After a couple of days fighting to keep the bag on his leg, I decided I needed a better solution, and this was it: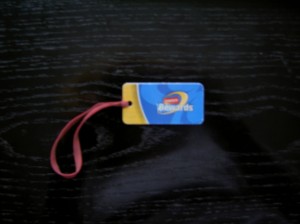 Pop the dogs paw into a bag and wrap the band around the top.  Next, slot the plastic through the loop in the band and this will secure it without the need for a knot or tape.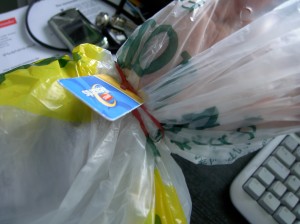 This handy little device wont cost you a penny and means you can take the bag on and off as often as you'd like, quick as a flash.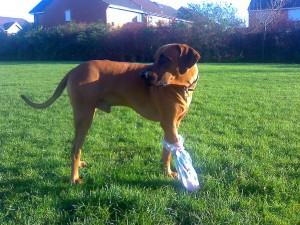 Just as an aside (and probably because I have a sick sense of humour) if your dog has a poorly paw that he cannot put his weight on properly, ensure he approaches the lamppost from the correct side when he cocks his legs to pee – dogs do tend to fall over if asked to stand on only 2 legs on the same side 😉