If like me, you will find any excuse to spend time with your dogs, then I'm sure you've probably considered taking up dog sports to do with them as a hobby.  There are lots to choose from – all brilliant ways to keep fit, improve the bond with your dog and just generally while away the hours with your favourite furry doing something really fun.  Teaching canine first aid I get to meet lots of really interesting people who all share the same doggy obsession but who share their "me time" with dogs in lots of different ways – many of which I don't think most of us even consider or know about to be fair.
So,which to choose?  Sadly, work often gets in the way so we can't do ALL the things we'd like, but if you're thinking about picking just one or two then the list is pretty good.  Here are just some of the hobbies that our students enjoy:
Flyball –
Dynamic, fast moving and great for ball-driven dogs.  Racing in teams over hurdles to pick up a ball then return down their lane in relay format (you can see dogs competing in Flyball at Crufts)
Agility –
My favourite.  It's dynamic, fast and needs good handler-dog team work.  That said, a dog who is not so fast but very accurate can still do very well so don't rule out your dog just because he's not a collie or a spaniel!  Here's Axl enjoying his agility – not quite fast enough to make an appearance at Crufts but we really do have fun with it.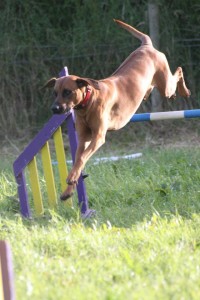 Trieball –
Good brain exercise for your dog where handler-dog team work will pay dividends.  The dog must manoeuvre a large ball around a course and get it in the goal.  A good sport for dogs with a little less mobility who still have the spark for life and want to work with you.
Rally 'O' –
Like obedience but less strict and a bit more fun.  Great brain exercise for you & them as you approach various stations with picture card instructions on of obedience manoeuvres you must complete.
Scent Work –
Great for a dog with a good nose and folks who love the outdoors.  It doesn't need to involve chasing or scenting an actual animal so you don't have to worry about animal welfare on this one 🙂
Coursing –
Great for a dog with prey drive who loves to put the peddle to the metal.  A lure is pulled along the ground on a line, around a twisty turny course, while Rover chases and hopefully catches it.  Again, no live prey is used but the dogs still get the thrill of the chase they crave.
Bikejoring –
Kind of like dog-sledding but with you on your bike, and the dog attached and running in front of you.  Brilliant way to get out in the woods and trails.  Exercise for you and them that brings out the kid in you for sure.
Cani-X –
Again, this one is kind of like dog-sledding but this time with you jogging rather than being on a bike, and being attached to your dog him on a harness and to you with a bungee type chord.  Getting out in the beautiful off-road areas with your dog, safe in the knowledge he is attached to you while you run hands-free!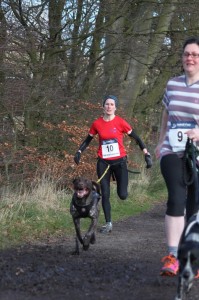 All of these sports and more are open to you and your dog.  You may excel at one and find you are absolutely useless at another but I guarantee that all will light you up mentally and physically when you give them a go.
Cani-X is something I've never had a go at but over the last couple of years I've been teaching canine first aid skills to the members of the CaniSports Edinburgh club.  When I spoke to them I realised a) how little I know about this hobby and b) how much fun it sounds so I decided to look into it a bit further and tell our followers a little about it.  Alison who runs the club uploaded this fantastic fun video to give everyone a bit of an insight into what its all about.  If you've ever thought about taking up a doggy hobby, give this video a watch and I dare you not to be inspired to give it a go!
https://www.youtube.com/watch?v=h6PWX9oRuQY
If you live in or around Edinburgh, you can contact Alison through their website at Www.canisportsedinburgh.co.uk or simply look out for your nearest local club.