Tractive GPS Tracker … an honest review by a middle-aged blonde technophobe.
As the Chair for Ridgeback Rescue, I undertook this trial of the Tractive GPS dog tracker device.  So, while this was done with hounds in mind, this is a brilliant option for ANY BREED, or cat, that you want to keep tabs on when they go out.
Why?
Ridgebacks are hounds.  As hounds, they love to track and chase and run .. and run … and run!!!  For many, the opportunity to chase after a deer or rabbit or other form of wildlife is just too much of a draw to resist and you may well find your recall training woefully inadequate.  I think for our breed more than most, having a reliable method of knowing exactly where they are, even when they've gone "off piste" is absolutely vital.
Benefits to Rescue Dogs
At Ridgeback Rescue, we often get dogs in to rehome who we consider to be a flight risk; either because they are easily spooked, have a prior history of absconding or simply that they are likely to take a while to settle in their new home.  This, primarily, was why we decided to look into GPS Tracker systems.  We wanted to send all of our newly rehomed Rescues off with a tracker so that we, and their new owners, would have peace of mind that should the unthinkable happen, we would still have a good chance of reuniting them quickly and safely.
Which GPS System to Purchase?
We have done a fair bit of research, trialled various brands and spoken at length with dog-owners who've tried them in the real world, as well as the companies who produce them.  Off the back of all of this, it seems that the Tractive GPS is the one that fits the bill for us best.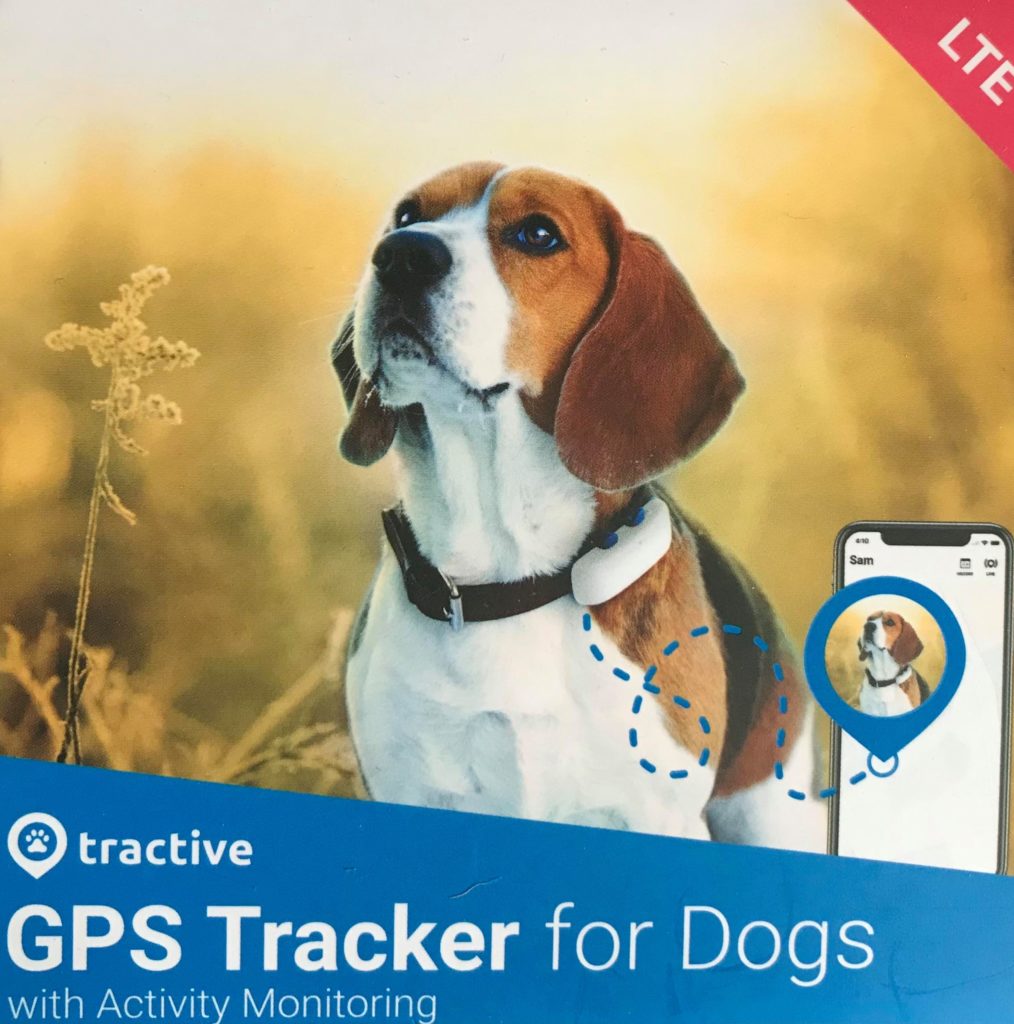 A Review
So, are they any good?  Are they value for money? Are they difficult to use? What are the plus points with this system that made us choose them over some of the others?  Well, firstly, let me tell you that I am blonde – whether you like stereotypes or not, where tech is concerned, that is a big factor in my case so I was absolutely the right person to try it out … I mean, if I can make it work, anybody can!
Battery Life
Step 1, charge up your Tractive.  Plug it in through a USB just like you would your phone.  There are various settings and features that you can use on your tractive but, if left on constantly with the occasional check in, the tracker should have a battery life of about 5 days.  This is very important if you think your dog may go "on the run" and take a number of days to apprehend … no use having a tracker that will be flat after just a day.
The App
Step 2, download the free app to your phone and create an account for yourself.  This account lets you choose your plan (if you choose the plan to be over a longer period, the monthly fee is cheaper).  When compared to other Trackers, there are some for which the initial outlay is cheaper BUT for many, there is also a standing charge you must pay annually a little like paying to have a landline in your home ON TOP of the charge to use the Unit.  For this reason, many are not as cheap as they appear on face-value and the Tractive comes out as a very good option in the "value for money" stakes.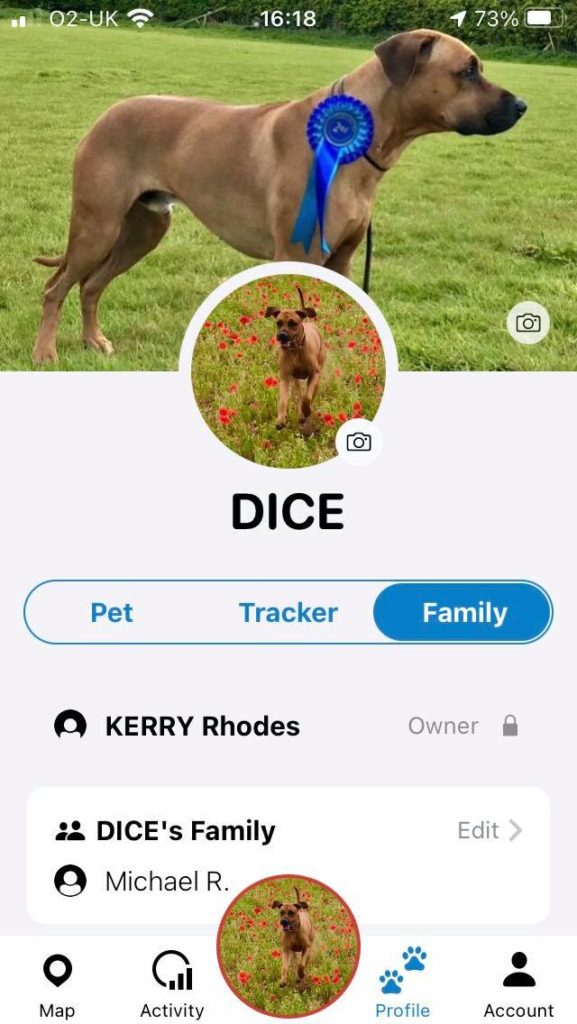 On your account you can register the specific device(s), upload a profile banner and picture of your dog and store information just as you would from a FitBit (distance travelled, minutes of activity, calories burned, elevation climbed etc).
.
.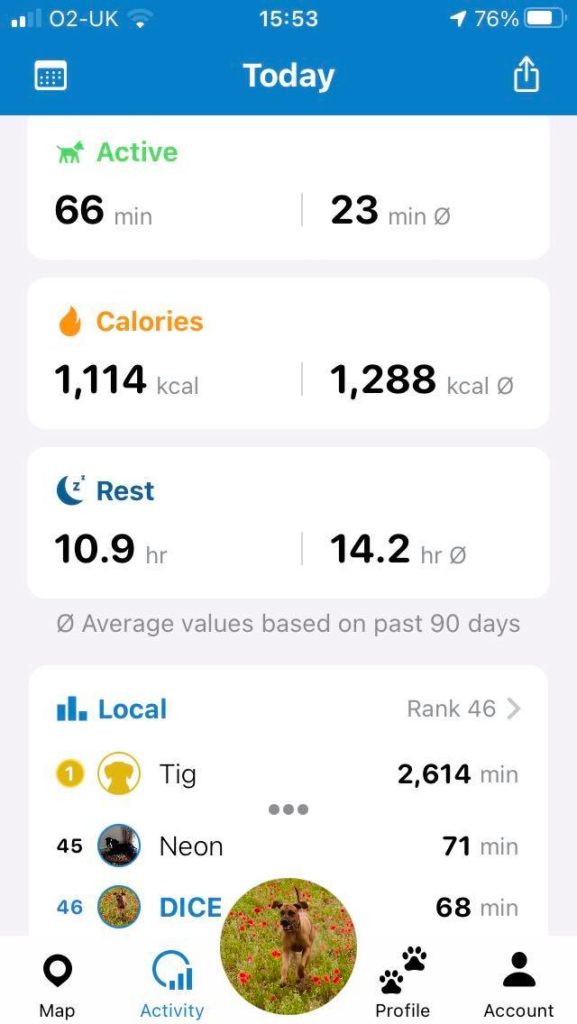 .
The neat thing with the App is that you can share a code, specific to your dog, with as many people as you need so that other family members can track him too … you just need one account and then email the code to whoever else needs it.  For us at Ridgeback Rescue, this facility means that not only the new owner, but also the Trustees at Ridgeback Rescue, will be able to see where the dog is at any given time so that if we need to rally a search party, we all have real-time information without the delay of having to contact each other by phone.
What Features?
You can set "virtual fences" so that should your dog stray further than a preselected radius, you will be notified immediately – vital in case he escapes from your home unexpectedly.  You can have more than one virtual fence so if you visit some places regularly, you can set up different fences for different locations.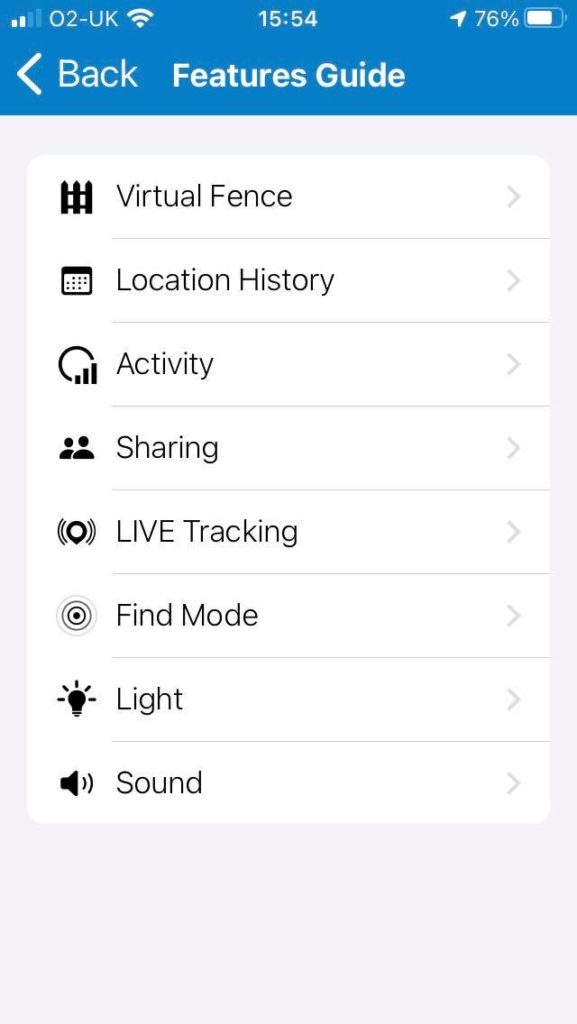 .
From the app you also have the option to turn on a light, in case your dog should go missing in the dark.  Along with the light, you can also turn on a beep sound so that you can hear the device should it be close by, but not actually in view (say under a bush or in a ditch).  The unexpected side plus from the beep is that you can use it as a force free way of helping to reinforce a recall – simply beep the device every time the dog is on his way back to you and reward handsomely to reinforce the connection between the gentle, unobtrusive beep and the jackpot pay-out of treats (NB: this is not to be confused with an e-collar.  It does not vibrate, surprise, shock or inflict pain and is in no way frightening or aversive to the dog).
Robust Enough for a Ridgeback?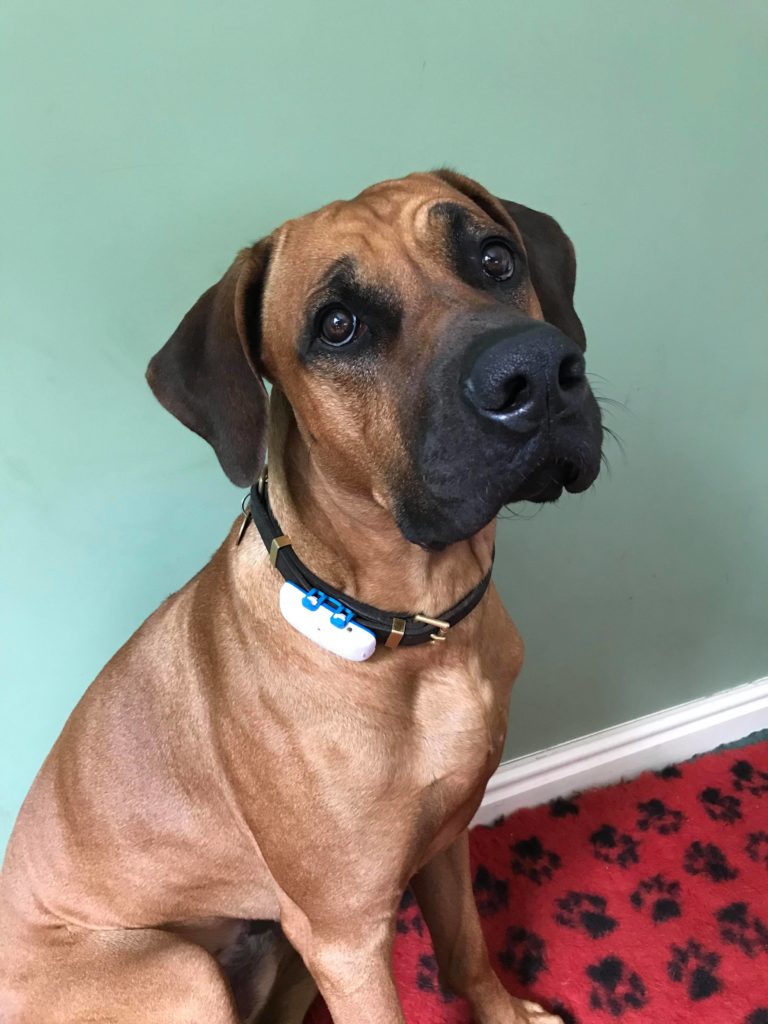 The tracker is waterproof, mud-proof and certainly appears Ridgeback-proof!  It slots around your dog's collar with a rubber attachment that clips to the unit in 4 anchor points … it certainly seemed pretty sturdy to me when Dice was charging about in it and wrestling with three other male RR's and no sign of it coming off at all.
What Views are Available?
The map on which you can zoom in and out massively, gives you three options to view:
1) Standard map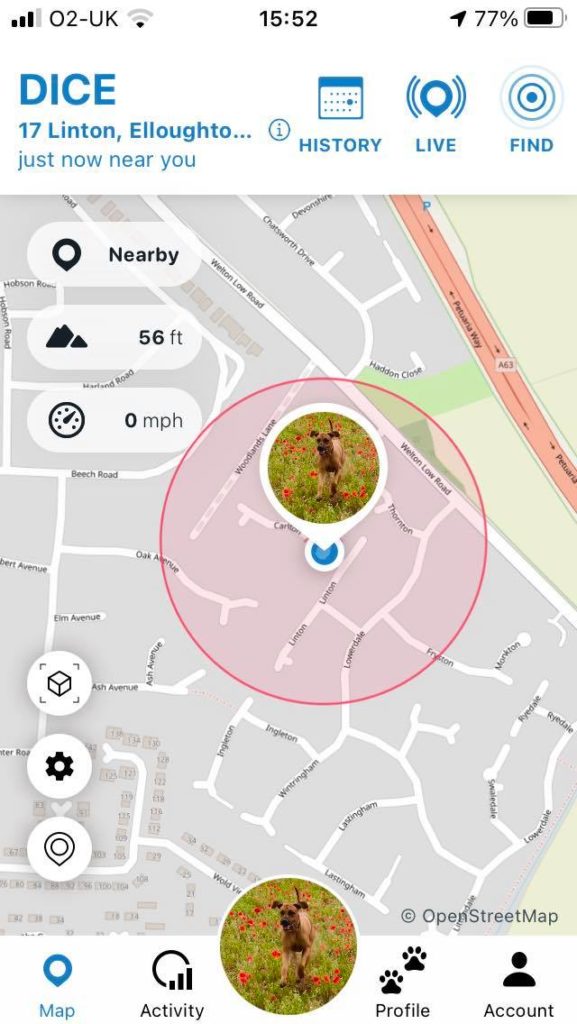 .
2) Augmented map which shows you more detail
.
3) Satellite view which gives you an image like Google Earth so you will know what you are looking at in reality, not just squares on a map.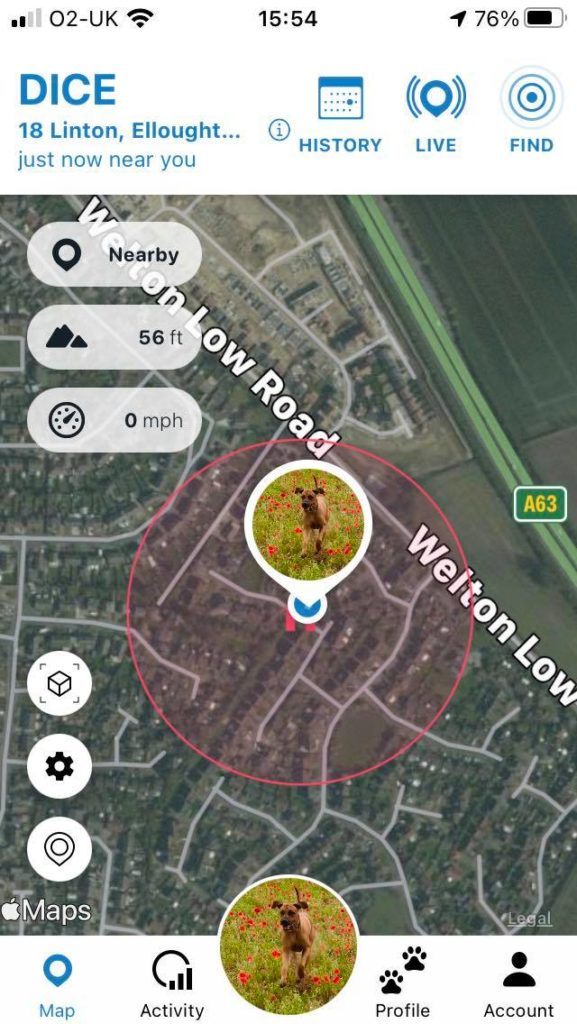 .
Accuracy
The Tractive works on a GPS model and can also be used with WiFi.  It has around a 5 ft accuracy in detecting the unit.  We have tested it both on Dice in a live walk situation and also with me driving him in the car and my husband tracking us from home.  At 45 mph, it was accurate to within 10 meters and, as I'm guessing it's unlikely your Ridgeback will be running at more than 45 mph, I reckon that's accurate enough even for our ginger ninjas.  On "live" mode, it gives you real time updates around every 10-15 seconds so you are constantly updated as to where the Unit is.
Final Opinion
When I volunteered to trial the Tractive GPS for Ridgeback Rescue, I had absolutely no intention of getting one for my dogs.  They are well behaved and stay with me (for the most part) within 100 feet maximum so it did seem a little unnecessary.  However, having used the Tractive for real, and being able to see exactly where my dogs are, the benefits and peace of mind they bring are undeniable.  I have three dogs at the moment, Rain is nearly 12 and his days of chasing deer are long gone.  I also have Coda, a 5 month old, who is very quickly getting faster and showing interest in anything that moves … for him, I just know this is going to be a life saver.  And then I have Dice.  Dice is 26 months old, hormonal, adolescent, as fast as lightening, has the prey drive to make a Puma blush and the stamina of Paula Ratcliffe!  With all the building going on just now, the deer where I live are having their habitat squeezed and we are finding them "pinging out" in front of us on our walks more and more.  I just know that when Dice and baby Coda team up, I'm going to be so much more confident knowing I will always know where they are when they inevitably decide that today is a good day for a hunt!
As I said at the start, I'm a middle-aged blonde with no particular techy leaning and even I was able to use the Tractive on the first time out.  The App is pretty user-friendly and straight forward, and the device itself seems robust enough for even the most Bear Grylls type Ridgeback.
The Deal
Although the purpose of this trial/review was to purchase some devices for our Ridgebacks going to new homes from Ridgeback Rescue, having seen how good they are, we also wanted to offer all our supporters the opportunity to get their paws on a reliable Tracker too.  We have affiliated with Tractive so that you can now purchase a device for your hound through our website.  For every device purchased on our Ridgeback Rescue website, Ridgeback Rescue will be given a 20% donation … and at various times in the year there will also be a discount code just for our followers that brings you 20% off the retail price (the current voucher runs until the end of July).
For convenience, Tractive have added their most popular subscription plans to the Tractive GPS mobile app. Monthly payment is possible only with a BASIC subscription plan. All subscription plan options are listed on the Tractive website – they offer payment by the month, year, or every 2 or 5 years depending on which plan you choose (BASIC OR PREMIUM).
Click here to go to the shop to purchase yours: BUY TRACTIVE GPS DOG TRACKER