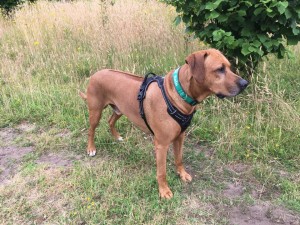 Walking your dog on a harness has many benefits and maybe now is the time to consider getting one.
In the "old days" we used to use check or choke chains to control our dogs and in some cases people even use prong or electric collars to get their furry friend to walk nicely on the lead.  We've come a long way since then I'm glad to say and with more and more people understanding the benefits of force-free training styles, those kinds of tools have pretty much gone by the wayside.  So, what can you use to walk your dog?  Well, obviously there is no substitute for good training.  Methods like the "300 peck" technique will help your dog to understand what is required of him rather than having his neck yanked if he pulls.
While you're getting to grips with good training, you can use tools such as a good head collar, which will guide the dog's head to one side if he pulls and makes walking even a large, boisterous dog very easy indeed.  However, as with all new things, a head collar should be introduced slowly and gently with lots of treats and positive reinforcement so that wearing it is seen as a pleasure rather than a chore.  The one I'd recommend is the "Dogmatic".  This one fits nicely on the muzzle a little like a bridle.  It won't ride up into the eyes, allows the dog to pant easily and even lets him carry his ball while wearing it.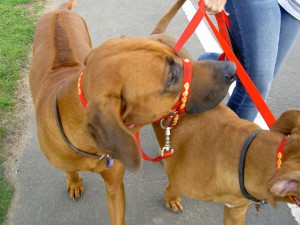 The other and perhaps best choice of all is to get your dog used to walking on a harness.  Harnesses were originally used to allow dogs to pull things so many people think that walking a dog on a harness will undoubtedly encourage him to pull.  With the right harness, that just isn't so.  There are many available in all kinds of price ranges.  Some are designed for sporting activities and others specifically to stop the dog pulling, but the key thing to look for is a ring not only on the top of the harness on the dog's back, but also on the front of the dog on his chest.  This allows you to attach the lead at both points, giving you a nice level of control without any pressure being forced on to the dog at the neck.
This video illustrates why the neck is so special and why we should be trying to protect it:-
When we use an ordinary collar to walk a dog who is strong or pulls a lot, this pressure is directed to the sensitive structures of the dog such as his neck, spine, throat and even his thyroid gland, all of which can be seriously damaged if the dog pulls hard and strong repeatedly.  That said, just one strong pull in the wrong way can damage your dog for life so considering a harness to walk them on is not just easier for you, but more comfortable them too.
Another safety aspect you get with a harness that you don't with a collar is that it is much more difficult for a dog to "reverse" out of a well-fitted harness and slip it.  I know of several occasions where, whether because he was spooked by something or just has his naughty trousers on, that dogs have managed to slip their collar and run off (and two of these occasions saw the dog in question chasing along a very busy road)
Good makes that have been recommended to me include the PerfectFit harness which comes in segments so you can buy exactly the right parts to fit your dog's measurements perfectly.  Another good one is that made by RuffWear.  Both are very good quality harnesses and worth the money.  The Perfect Fit harness is available here: https://www.dog-games-shop.co.uk/
Here's Chi showing off his beautiful Perfect Fit Harness (with front chest ring and top ring, beautiful colour co-ordinated soft fleece to make it comfortable and of course … its a perfect fit!)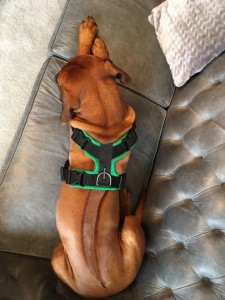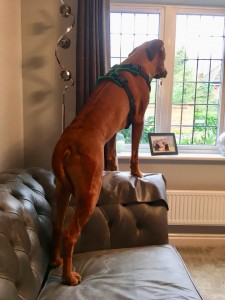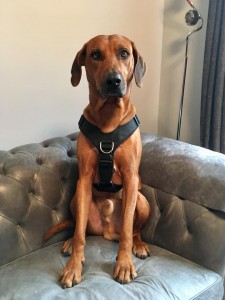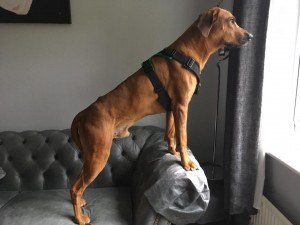 Having three large dogs myself, I opted for the Perfect Fit for Chi (our youngest and most powerful lunatic), and after quite an extensive amount of research, we finally plumped for the following harness for my older boys who are less exuberant – these too are well made with the rings on the top and the front, reflective stitching making them great for walking in the dark, padded at the chest to give support and comfort and available in bright green, bright orange or black for the more understated 😉  On a hot day, you can even pop them in the freezer for 15 minutes before you go out to give them a chilled cooling experience too.
https://www.amazon.co.uk/Everyway-Adventure-Reflective-Adjustable-Protective/dp/B016IDJVFC/ref=cm_cr_arp_d_product_top?ie=UTF8