Keeping a paw dressing dry in wet weather can be a nightmare.  Often, a dressing may need to stay in place for weeks at a time and if the weather is wet, every time your dog needs to go out for a toilet break or short walk means you have to wrap the dressing carefully to avoid it becoming sodden.
While I was teaching yesterday, somebody asked me about exactly this problem so I thought I'd post my way around it as a blog just in case anybody else needs the information in the future.
When Axl amputated his stopper pad many moons ago we had to keep his dressing on for 8 weeks – 6 of which were during very snowy weather! Obviously you do tend to get a bit good at working round problems when faced with them for so long, and this was how we got around it.
I took a tab of plastic and punched a hole in the end (you could also use a keyring fob to do this). I then threaded an elastic band through the hole to secure it to the plastic tab. This tab acted as a "toggle" to fasten through the elastic band.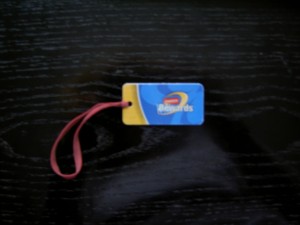 I then put the bag on Axl's foot and secured it at the top by wrapping the band around his leg and putting the plastic toggle through the band to hold it steady.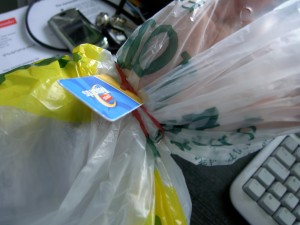 This toggle technique meant it was really quick to put the bag on and off without having to keep wrapping it all up with tape or vet wrap which often just slipped down anyway.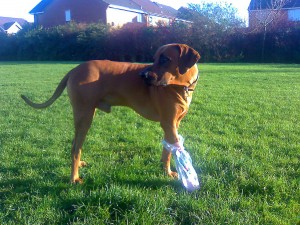 In my experience, the best bags to use are the ones you get from Sports Shops when you buy trainers, the "bags for life" from Supermarkets or, if you are big chums with your vet, the saline bags that they use for administering fluids by drip.  For really tiny weeny dogs and cats, the finger of a latex glove is perfect or, if they are only walking on grass and soft ground, then a condom does the job perfectly.
I've attached some pictures which hopefully show what I'm trying to describe to you and also some photos of the ingenious dressings the lovely vet nurses put on while caring for my boy (well, it did happen at Christmas!
lol )