Locating an Emergency Vet – NOW!!!  It's vital to have your usual vet's telephone number in your 'phone so it's right at your finger tips if you need it.  Check with your vet to make sure they have provision for accidents or emergencies that occur out of usual office hours.  If your vet DOES NOT have an emergency service, its worth spending a little time finding out where the most convenient emergency vet to you is and making a note of that number too.
Equally important is doing a little homework before you go on your travels.  When going on holiday or working away from home with your dog, always get the name and number for the nearest emergency vet to where you are staying and pop it in your 'phone before you get there.  There's nothing worse than trying to search for a number when you are in a panic, in a strange place, when you don't know the area!
If you are staying on a site hosted by the Caravan Club or an agility competition, ask when booking your pitch as they often have details of nearby vets readily available.
Remember, Axl's book "Rhodes 2 Recovery … doggy style!" can also be downloaded from this website to your smart 'phone. At the end of each chapter is a section of straight forward guidance on many subjects including CPR, Drowning, Choking, Bleeding, Snake Bites, Electrocution and more. Just click here: https://rhodes2safety.com/?page_id=287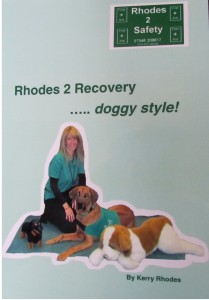 If you have a smart 'phone, don't forget there are also some great Apps about that will tell you where the nearest vet to your current location is – they work on GPS so even if you're lost, they should still be able to help! Many of these apps not only have a list of vets for you, but also include basic first aid information too which may prove invaluable if you're in the middle of nowhere with nobody to help you.
There are several apps available.  The Vet Finder app certainly seems to be a good one, but Im sure there are many others available to.  Here's the link to the Vet Finder app https://itunes.apple.com/us/app/vetfinder/id391754357?mt=8&affId=1503186
It locates your position, lists the closest vets to you and then, when you select one from the list, gives you directions of how to get there too.
The Vet Finder app does not, I am told, list vets for Ireland but you may be able to find another app that does.  If not, can I suggest you lobby Vet Finder and get them to add a list of the Irish ones to their database too!!
Remember its way better to get access to all this information BEFORE you need it!