Hip Dysplasia Symptoms vary depending on severity – usually in young dogs in which bones are still growing (up to about a year old) or in older dogs which have developed signs of arthritis in the hip joints.  The older dogs have always had HD but the condition has remained "silent" until arthritis eventually begins to cause problems. Often muscles of the hip area are noticed to be poorly developed or wasted in young and older dogs. Young dogs typically show a sudden onset of signs, although this can be the case in older dogs too (eg after strenous exercise) or there can be a more gradual onset of stiffness and lameness.
.
Lameness & hind leg stiffness are most common signs but other clues include:-
Juddering of a leg when standing still
Difficulty in getting up after rest
Difficulty in negotiating stairs (particularly up)
Difficulty in jumping in/out of cars
"Bunny hopping" gait when running
Characteristic sitting posture with legs pushed out to one side.
.
Irrespective of what painkillers are prescribed in young dogs, adequate rest and restriction of exercise, sometimes for several months, is vital.  It is worth remembering that active young dogs made pain-free by strong painkillers may inadvertantly do more damage to their joints, storing up problems for later on.
.
In the x-ray below taken from a large breed dog at 13 months of age, we can clearly see a case of HD with the round end of the bones on either side appearing to have a flat edge and even a slight "corner", rather than a completely curved surface.  The flat appearance of the head of the femur in the socket will give rise to wear within the joint rather than a smooth, fluid movement and may cause possible problems in later life.  The head of the femur should be smooth and round, with a tight fitting snug appearance inside the socket.  There should be a clearly defined outline to the bone.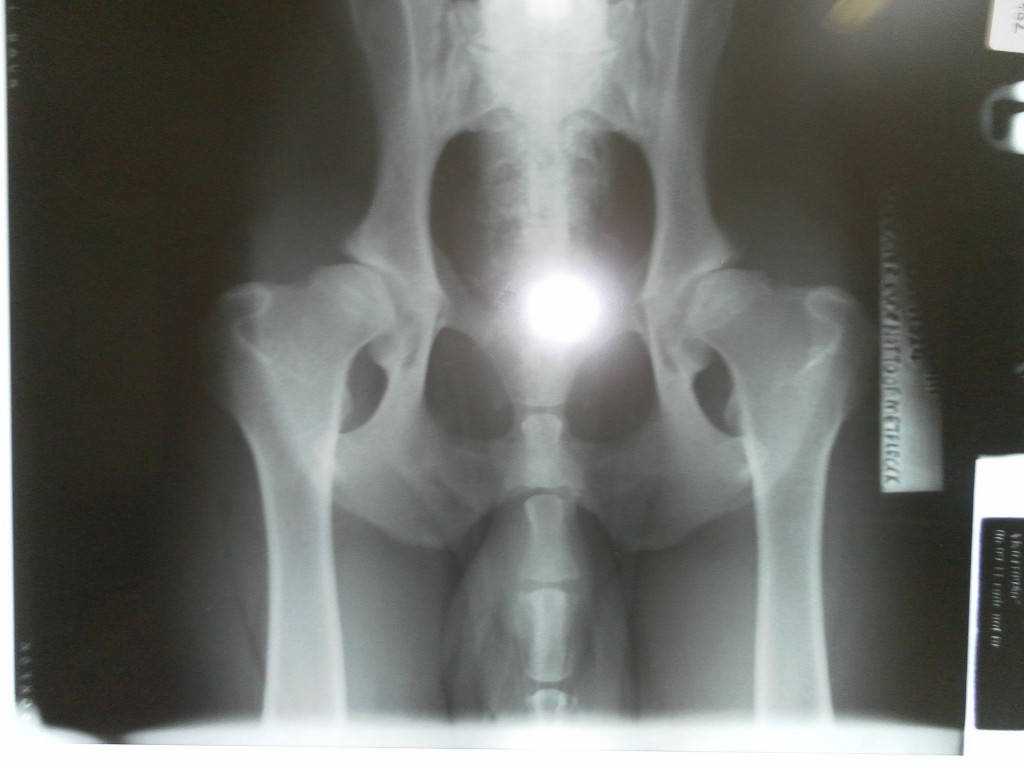 X-rays for "hip scoring" purposes can be done under General Anaesthetic or sedation depending on your veterinary practice's policy.  Some people prefer to have this procedure done under sedation rather than using a full GA and knocking the dog out entirely, while others would argue that for the dog to be placed in the optimal position it would need to be completely unconscious.
It is now preferred to have your dog's elbows x-rayed and scored at the same time as having his hips done.  Each breed has a specific list of health issues that should be screened for and for breeds who list hip problems as a possibility, only dogs with = or below the average score for their breed should be used in breeding programmes.  If you are looking to buy a puppy and the breed you are considering is known to have a possible weakness of the hips, please ensure that the parents have been scored as average or below average and, if possible, look back at the scores of previous generations too to give your puppy the best chance of inheriting naturally healthy hips.
Not all HD problems are genetic.  Some may arise due to the lifestyle of the puppy in his early months and years.  It is important to minimise activities such as running up and down stairs, jumping in and out of the car or off furniture, long distance running by the side of a bicycle, agility training etc until the dog is at least a year or more of age (and with larger breeds, perhaps not until they are 18 months or so to be on the safe side.)