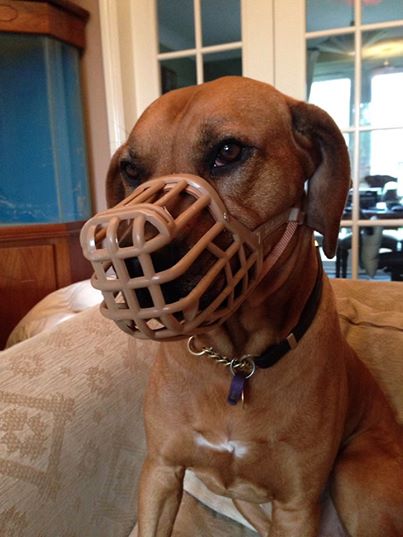 How and why to introduce Muzzle Acceptance:  The first thing to consider in any first aid situation is your own personal safety, be that from road traffic, electricity, fast flowing water, or particularly when dealing with animals, claws and teeth.  I always tell our students that if you need to deal with a frightened dog or one that's disorientated or in pain, then applying a muzzle is the safest way for you and for him.  Many dogs would find this a very stressful thing if they've never worn one before and even the kindest, most well balanced dog could be forgiven for inflicting a nip in such circumstances.
Packed away very small and light in your first aid kit, something like a fabric muzzle is fine for very short periods.  Personally, I would rather recommend the use of a Basket "Baskerville" style of muzzle, which is more comfortable allowing the dog safe drinking, panting and much less stress than the tight fitting fabric varieties.
http://www.petstuffgalore.co.uk/dog-products/muzzles/baskerville-muzzle.html
Imagine for a moment that your dog has cut his paw very badly.  You've managed to get a dressing on but now he needs to visit the vet to have it properly seen to.  Rover is already far from keen on going to the vet and now you are expecting him to sit nicely while somebody he hardly knows starts prodding and poking his very sore paw.  Quite a lot for him to take on and, quite a lot for you to have to deal with too.  When you know there is a possibility that your dog may try to defend himself and wind up biting the vet, that increases your stress levels still further too.
.
In such a situation, the simple act of applying a muzzle will take things down a notch or two for all concerned so I'm very grateful to Claire Staines of Lothlorien Dog Services
http://www.lothloriendogservices.co.uk/
 for making this blog for us to explain HOW to get your dog used to wearing a muzzle using positive reinforcement techniques.  This kind of positive introduction means that if you ever need your dog to wear one for real in a situation such as one I've outlined above, they wont freak out.
.
This is part 1.
And this is part 2.
.
Thank you Claire for another smashing educational video.
.